Anneli Rufus: Milk Pairings, Tea Pairings, Wine-and-Fritos Pairings: Pair, Pair Everywhere Featured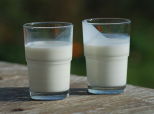 Authors: huffingtonpost FOOD
I met a sommelier last week who specializes in pairing fine wines with Pringles, Cool Ranch Doritos, KFC cole slaw, California rolls and pumpkin pie -- stuff you'd normally never associate with le vin. This made me wonder what other beloved beverages might be matched with specific foods to produce pinnacles of flavor, texture, mouthfeel -- you know, chemically, the way it works with wine.
We could calculate such pairings easily if we only had a Pair-O-Meter:
But if we had a Pair-O-Meter, we would need to know whether its name rhymed with "barometer" or "marrow beater."
Because we mammals owe everything to milk, I asked the folks at Wholesome Dairy Farms in Douglassville, PA to suggest some primo milk pairings. Wholesome's dairy-and-kitchen manager Rebecca Seidel, who oversees the farm with owner-operator-veterinarian Mark Lopez, found the challenge "incredibly exciting."
"Milk pairings," Seidel says, "are an unexplored concept in the modern culinary scene" -- probably because most Americans know only standardized, high-temperature pasteurized, homogenized supermarket milks:
"I would suggest tasting grass-fed milk through a seasonal lens. This would mimic the way wine tasters view wine."
Spring and summer milk at a farm such as Wholesome is less sweet and graced with more herbaceous notes than winter milk because the cows spend those seasons eating beta-carotene-rich pasture grasses, Seidel explained. Fall and winter milk, produced when the cows eat stored feeds, is milder "and far sweeter."
What to serve with the white stuff -- and when?
Grassy spring milk "melds well with savory and spicy dishes. I would look at Mexican and Indian cuisines for inspiration. The fatty-sweet profile of milk really coats the palate, allowing for fantastic spicy food experiences. Some Chinese flavors as well, such as wild bracken pickles on sticky rice, also go very well with cold whole milk.
"Sweet corn works well with summer milk, either grilled on the cob with garam-masala or chipotle-lime butter or in the traditional Pennsylvania German corn pie, meant to be topped with warm milk and butter. I see both the sweetness of the corn and the sweetness of the milk playing off each other very well: two entirely different kinds of sweet, one animal-grown, one earth-grown, both juicy and summery.
"Sweet, mild winter milk begs for sweet and tart treatments with flavors that won't overpower the milk. Roasted things immediately jump to my mind: roasted sweet potatoes and beets with caramelized shallots; roasted chicken; focaccias with browned sweet toppings like caramelized onions or grapes and fennel seeds," Seidel suggests.
Winter milk also pairs well with sweet winter vegetables:
"Browned parsnips with maple syrup and toasted pecans or a few fat ravioli with delicata squash, fried sage leaves and toasted pine nuts or beans cooked with warm spices such as cinnamon, bay, cloves and spicy chilis would marry well with winter milk. This is the time of year for chocolate pave, sticky blondie bars and mincemeat cookies with icy milk."
It sure is!!
"Brandied peaches with shortbread wedges and a tall glass of milk, echoing brandy milk punch, would be divine."
Seidel offers these general milk-pairing pointers: "Avoid acid-heavy foods such as tomatoes and citrus as well as foods with a fatty mouthfeel, such as deep-fried foods."
So much for fries and a shake. And forget linguini with lattes, because Seidel says milk doesn't suit most pastas and dairy-heavy dishes.
"Fish doesn't play well with milk, either," she adds. And while Seidel recommends pork, chicken and veal with milk, it's ix-nay to beef, lamb and duck.
Dairy pairy extraordinary? Try matching kefir, buttermilk, clabbered milk, lassi and other probiotically fantastic fermented milks with munchables too.
"All Indian dishes pair well with fermented milk, especially spicy vegetable curries. In a sort of deconstructed borsht, a salad of cubed roasted beets tossed with salt, pepper, dill and topped with cubed cucumbers and pickled red onions would be fantastic served next to a bowl of kefir. Sweet-spicy nuts, such as pecans roasted with black pepper, salt and brown sugar would play well with the tangy, thick mouthfeel of these fermented milk products. Also, super-ripe too-sweet fruits such as mangoes, paw-paws and sweet yellow tomatoes would work well."
With milk pairings, temperature matters. 
"We are used to drinking milk that is served under 40 degrees. This is really a new concept. Pre-refrigeration, the coolest milk could be during the summer months was the temperature of groundwater when cooled in a springhouse. Simply adjusting the temperature of milk when serving could bring out an entirely different flavor profile," Seidel says.
Lactophobic? Look to the leaf. Tea pairings have been part of Chinese culture for thousands of years.
"Many Chinese people make these pairings naturally without even thinking about it, because they've done it forever," says Roy Fong, owner of the San Francisco-based Imperial Tea Company and Imperial Tea Court, America's first traditional Chinese-style teahouse. "In America, this art is less well-known."
Fong, an ordained Taoist priest and former Head of Research and Development for the International Tea Masters Association, has taught tea-pairing classes since 1993 -- and particularly enjoys pairing Chinese teas with Western foods: keemun tea with chocolate mousse, for example, and jasmine pearl tea with French brie.
Typically grown in Yunnan Province and sold in the form of hard, dark bricks or disks, assertive black pu-erh tea paired with 75-percent-cocoa dark chocolate "is just awesome," Fong says. "Because pu-erh is a little earthy but not overly so, it makes the chocolate -- which is already great -- even better.
"When I have people over for dinner, I serve tea before the starter. The right tea allows the taste buds to become more sensitive. Generally I start with a green tea, but I make it light so that it not only cleanses your palate but also gets your digestive system going, and gets you hungrier."
As the meal progresses, "I might move on from green tea to a light oolong, and then for the main course something more potent. If the main course is on the greasy side, I'll serve a higher-oxidized oolong."
Tea pairing is more fun and fulfilling than wine pairing, Fong says, "because tea pairing allows you to participate a lot more. With wine, other people have made the wine and bottled the wine. You can choose which glass to serve it in, but that's about it."
By contrast, you can alter tea's intensity and flavor throughout the brewing and serving processes to create countless effects -- some subtle, some striking -- so that even a single type of tea can be prepared and drunk in different ways to pair perfectly with very different dishes.
"You can choose what kind of water to brew it in, how long to infuse it, how to pour it out, how long to wait before drinking it, and how hot to drink it. All these things make a big difference," Fong explains. "You can adjust tea. That's something you can't do with wine.
"But in order to find which teas complement which foods, it helps to step back and learn what each tea is about and how to prepare it. Then you can understand its full potential."
Which brings us back to wine. At Maverick in San Francisco, co-owner/wine director Mike Pierce hosts zany, cerebral, immensely popular seminars based on ostensibly bizarro but demonstrably dynamic wine pairings: Domaine La Fouquette Côtes de Provence Rosé d'Aurore 2011 with Froot Loops, for instance. Ceago Sauvignon Blanc Clear Lake 2010 with Fritos -- because, as he told me, "Sauvignon Blancs are not as austere as Sancerres." Well, of course not! Plus: Spanish albariños with Pringles and Austrian white wines with Skittles.
"I'm a wine-and-food-pairing freak," Pierce says. "I can't eat anything without thinking about which wines would go with it." But in a master-class sense: "I mean, things like Port and chocolate -- that's too easy."
Past quests include gas-station cinnamon rolls, a nostalgic treat harking back to childhood road trips. Pierce paired these with Pinots -- "which were all green and underripe, with cinnamon and nutmeg spice."
Last week at Maverick, Pierce paired wine with Mexican food. While beer and tequila usually fill that bill, Pierce brought a sweet Hauth-Kerpen Spätlese Riesling 2006 halfway around the world from Germany's Mosel Valley to bring out the spectacular-sunstruck-roadside best in earthy, tender pork carnitas tacos.
"Pork and Riesling are best friends," declares Pierce, who will host an alternative Thanksgiving wine pairing next month. "But people are afraid of sweet wines."
With churros -- Mexico's answer to the donut -- Pierce paired Domaine Gavoty Rosé 2011. From Provence, of course. Because, you know, "I initially tried churros with a Madeira, but it just crushed them."
Wholesome Dairy Farms' Rebecca Seidel offers a recipe for a dish her father often prepared when she was a milk-loving tot:
"We always had it with icy raw milk, dipped straight out of our bulk-tank. It is really the epitome of salty-spicy food balancing with the coating, fatty, sweetness of good milk."

Tofu with Chili Sauce and Bean Paste
Serves 4
 
One Block of Tofu, Cut into ½" cubes
2 eggs
2 T Cornstarch
2 T Whole Coriander Seeds
2 T Whole Cumin Seeds
½ T Whole Black Peppercorns
2 T Roasted Peanut Oil
3 Large Garlic Cloves, Minced
1 Lb. Green Beans, Tipped
¼ cup Chili Sauce with Bean Paste
¼ cup Sambal Oelek
 
Whisk eggs and cornstarch. Toss gently with tofu. Set aside.
 
Toast coriander, cumin and black peppercorns in a dry skillet until fragrant. Coarsely grind in a mortar and pestle or spice grinder. Set aside.
 
Add peanut oil to wok. Heat until barely smoking. Add minced garlic and stir-fry for 30 seconds.  Add tipped green beans. Cook until barely tender, three minutes.
 
Add spice mixture to wok. Stir to coat. Add tofu-egg mixture. Stir-fry for one minute. Add chili sauce with bean paste and sambal oelek. Stir-fry until egg mixture is set and tofu is hot, scraping the brown bits off the bottom of the wok while cooking.
 
Serve with sticky white rice and cold whole milk.

Pair-O-Meter images and milk image courtesy of Kristan Lawson. Churro image taken by Anneli Rufus. Tea images courtesy of Imperial Tea. All images used with permission.
"; var coords = [-5, -72]; // display fb-bubble FloatingPrompt.embed(this, html, undefined, 'top', {fp_intersects:1, timeout_remove:2000,ignore_arrow: true, width:236, add_xy:coords, class_name: 'clear-overlay'}); });
back to top